6 Movie Sex Scenes You'll Want To Copy
Some movie sex scenes are so hot they beg for repeated re-watching. The only thing better than watching one of your favourite sex scenes is – re-enacting them.  Sex is a normal, healthy part of being human and it's great that some movies or TV series reflect that. They have the ability to evolve mores, tastes, lessening hang-ups, push boundaries and bust sexual taboos.
On that note, here are some hot, graphic and ground-breaking sex scenes on screen. Below are 6 films that you might have felt inspired to recreate.  6 movie sex scenes you'll want to copy. Have we forgotten your favourite? Let us know.
1. Games of Thrones
Why it's Hot
Even though it's over if there is one thing that we'll remember about this series for is its sex scenes and nudity. Game of Thrones definitely knew how to make the sex scene hot. This show wasn't afraid to showcase plenty of sex scenes, from orgies, bisexual sex, forced sex, and everything you can imagine. We should note that there are certain sexual acts in this series we do condone – incest and rape. There's so much inspiration right here in one show.

image source: Giphy
2. The Witcher – Netflix
Why it's Hot
You must have heard of The Witcher, a Netflix series worth watching if only for episode 3. This episode features a very, very hot sex scene between Yennefer and Istredd who have sex in front of an audience. This one is for the exhibitionists out there and plays on all the ultimate voyeuristic fantasies.
image source: Netflix
3. Disobedience – Stan
Why it's Hot
 This is for those who fantasise about girl-on-girl encounters. The sex scenes between the main protagonists (Rachel Weisz and Rachel McAdam) are some of the hottest you have ever watch.
 Image source: Stan
4. The Secretary (2002)
 Why it's Hot
This film follows a sadomasochistic relationship between a lawyer and his secretary. S&M sex at the office is totally taboo and super arousing. This was one of few mainstream films to portray BDSM as sex-positive. This is a great movie for those wanting to explore domination & kink.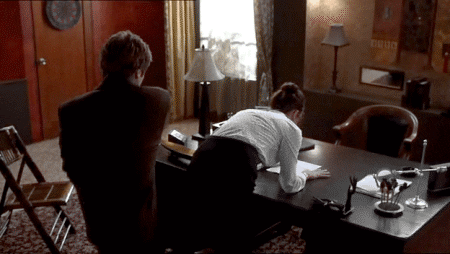 Image source: Giphy
5.Sense8
Why it's Hot
If you haven't seen Sense8's orgy, you haven't lived. It's truly iconic in the world of TV sex, and a must-watch for people into orgies (anyone?). What is really hot about Sense 8 is that it acknowledges that queer relationships can be normal, drama-free, sustainable, and inspiring.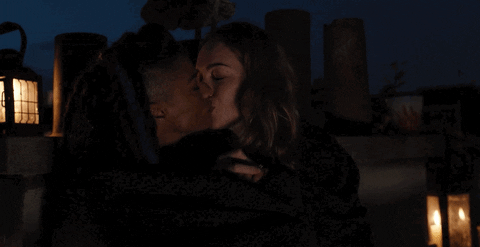 Image source: Giphy
6. Eyes Wide Shut 
Why it's Hot
The film's most famous scene happens when Bill (Tom Cruise) infiltrate a secret society's ritualistic orgy. He wonders through a sea of cloaks, masks and nude bodies engaged in various sex acts. There are a lot of elements to inspire – secret mansion orgy, anonymous sex, voyeuristic pleasures and strangers effing all over the house and a massive orgy.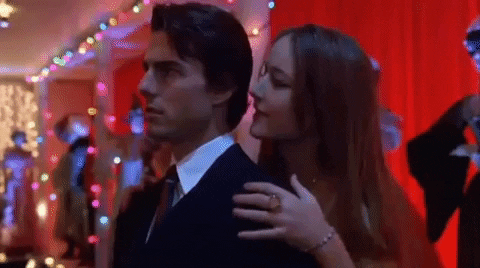 Image source: Giphy
Featured photo by Shamin on Unsplash
How many of your fantasies have been inspired by a sex scene in a movie?